QIC: Chappie
Date: 8/29/18
YHC was pumped to Q 2x in less than a week, though he wasn't 100% sure he was even going to be able to make after battling head & chest crud since Friday evening. Skipped what sounds like a serious beatdown at the hands Leatherman who Q'd at CHOP yesterday. The goal was to try to rest up and stay/get healthy for today. #summercoldsuck
Seven awesome PAX posted in Lewes, DE at the Primis AO for a trip to the hospital. Well, actually there were only 6 of us til deer slayer himself, Chairman, rolled in after bringing the gavel down on Bambi. She did a job on your ride, man! Here's what YHC's ride looked like when he showed up at the Aegis AO one Saturday morning right after the AO was planted…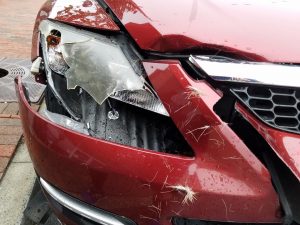 Have to get a shot of your ride and post it for posterity purposes. Looks like we've got a special way of initiating new AO's; don't say anything to the insurance companies! Chairman, we're all glad you're okay brother. …and this just in…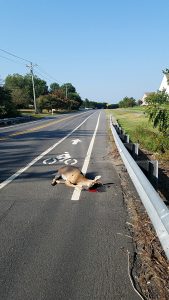 Of course, anytime you're in an accident they say its best to go to the hospital to get checked out. So, here's how that developed…
Warm-O-Rama:
Disclaimer…uh, thought about…kinda. It's hard to think when you have a cloud raining down snot inside your head.
SSH – 10 IC
Nipple Scraper Merkins – 10 IC
Hello Dolly – 20 IC
Windmill – (we heard him coming — enter the deer slayer, so YHC forgot the rep count)
Omaha'd the Weinke due to time constraints: Also had planned to do Peter Parkers, Merican Hammers, Shell Picker/Crab Flippers, and Delmarva Drydocks. It's not a bad trip to the hospital from the AO, but last time YHC ran out of time and had to make a withdrawal from PPB (the PAX Patience Bank) to get the job done. So off we go with a steady  mosey to Beebe Hospital's parking garage.
The Thang:
Swift Mosey up Level 1

25 Merkins
25 Gas Pumpers

Swift Mosey up Level 2

50 Merkins
50 Gas Pumpers

Swift Mosey up Level 3
Double Decker Mosey up Level 4 & 5
Double Decker Mosey up Level 6 & 7
Swift Mosey up Level 8
Top-O-The-Garage, great location for 3rd F:  Did you know that at the age of 67, Thomas Edison watched a fire destroy much of his work and equipment? Time to retire? Time to hang up the old lab coat? No way! "All our mistakes are burned up," the inventor said, "now we can start anew." There is a time to retire but Edison knew this time had not come. The fire that consumed his work didn't destroy the fire that burned within him to continue his work. Edison's commitment remained.
People tend to associate commitment with emotions. If they feel the right way they can follow through on their commitments. But true commitment doesn't work that way. Commitment is not an emotion. It is a character quality that enables us to reach our goals. Emotions go up and down all the time, but commitment must remain rock solid. A solid team, whether it is in sports, business, workplace, marriage, or ministry, must have team members who are solidly committed.
3 things we need to know about being committed:
1. Commitment is usually discovered in the midst of adversity. You never know the level of your commitment until things get tough. Commitment is revealed, not necessarily built, by adversity.
2. Commitment is revealed in choices, not conditions.
3. Commitment lasts when it is based on values. Establishing commitment from a team is a critical piece of leadership. The only way to sustain commitment is to link it with personal values. Values drive your choices and they stand up to the test of adversity.
(Adapted: TFC President's letter, D.O. Young)
Psalm 37:5 ESV
Commit your way to the Lord; trust in him, and he will act.
Proverbs 16:3 ESV
Commit your work to the Lord, and your plans will be established.
2 Timothy 4:7 ESV
I have fought the good fight, I have finished the race, I have kept the faith. Now there's a man, along with our Savior, Jesus Christ, who was committed regardless of conditions!
Commitment. One character trait of leaders leading leaders—of HIM!
As they say, what goes up must come back down; here goes on the descent back to Level 1:
Lt. Dan (1 of YHC's favorites, especially descending…hits the muscles a little differently)
Nur to Level 5, waiting for the six, we realized we were in a motorcycle parking spot. So…

20 Four-Count Freddies IC (get on your bike and ride!)
20 Derkins (high wall created some chatter from Chattahoochee. Hmm…name change? Chatterhoochee? Oops! Didn't mean to poke the bear, he's on Q in the Gloom.)

Lt. Dan once more
Bearcrawl (Whoa! watch the traffic! The PAX definitely created some chatter as the shift change was nearing and people were racing to their parking spots and trying to kill the bears. Hey, YHC thought this was deer season. Chairman?)
We made it! Kind of funny to hear hospital employees talking about what they saw as they arrived for work at the hospital. Parking Garage Playa's! Aye!
Mosey back to the AO.
Great group of HIM to workout with today. YHC was pushed and pulled (mostly pulled) on this Gloom. Ruxpin you're a beast brother! You jumped right in to the crazy amazing thing called F3 and nothing has stopped you. Seriously, that's commitment! Think about where you'll be a few months from now. Vanilla, thanks for posting even while you're battling the same kind of head & chest crud–Site Q leadership! Summit, what can be said? If YHC's not mistaken you led the mosey all the way back to the AO. You against you, better and faster! Not to mention, Chairman who was right up there with you — it's like he was looking for deer or something. Leatherman, you're bringing beatdowns that leave the PAX chattering, and then you post for another Q's serving the next day. Way to step it up, keep raising the bar brother (brothers)! Chattahoochee, always appreciate you "picking up the 6" — you never fail. Never leave a man behind, but never leave him where you found him.
After a little trip to the hospital, we made it back on time.
COT/BOM:
Announcements:
Run, White, & Blue 5k, next Thursday, Sep 6 at Del-Tech
Monday, Sep 3, First State F3 Annual Labor-Day Beach Day Beatdown Convergence: 7 am north end of the boardwalk. See the Pre-blast. (Site Q's bring your AO Shovel-flag)
Prayers:
Troopers involved in shooting yesterday at Harbison
YHC and his M as they're raising teenagers — tough times (but praise God anyway!)
Saboutit!
Honored to lead again. Thanks for the op!
~Chappie, out
And, oh, who was that doing 60 catch-up Squats? LEA-THER-MAAAAN!