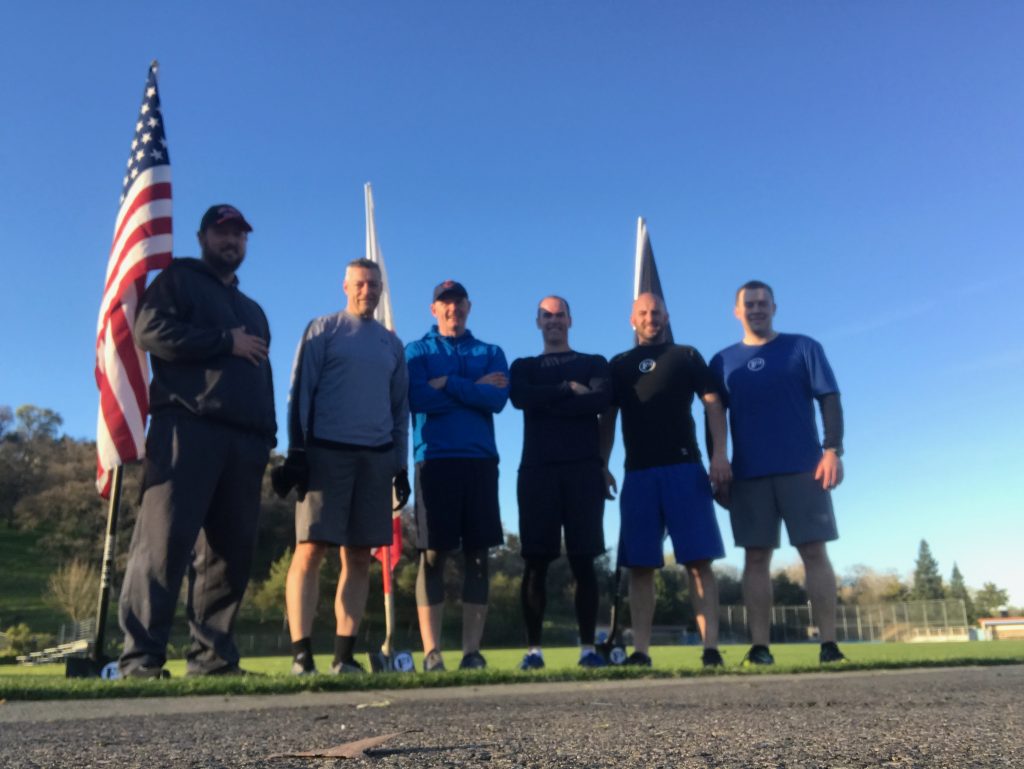 3/16/2019
QIC: '88
Pax: Hobo, Ponch, Slice, Captain, Rapid
Turkey count: 20+ (no really, we have a flock that roosts in the trees surrounding the AO and make their way on the grass each week)
Indian Lap- Snake
20 SSH IC20 Merkins
20 Squats
50yds 2x Side shuffle
50yds 2x high knees 
40 yds 2x  Bear crawl 
40 yds 2x Karaoka
30 yds 2x Sprints
30 yds 2x Wheelbarrows
20 yds 2x Broad jumps
20 yds 2x Lunges
10 yds 2x Inch Worms
10 yds 2x Imperial Walkers

B.O.M.B.S (Partner work)
Partner 1 runs around all 8 basketball courts
50- Burpees
100- Overhead Claps
150- Merkins
200- Big Boy Sit-ups
250- Squats

Mary
20 Bicycles IC
Alphabet
COT
Spanish Count-o-rama to "¡seis!"
Name-o-rama
Ball of Man
NMM
After experiencing several weeks of wet and "cold for California" weather, we got a nice morning in the mid 40's. This week we welcomed back our brother Slice who had posted at the inagural workout on 11.3.18 and had gone MIA since. It took a full court press from YHC and Ponch. A clown car offer from Ponch put it over the top for Slice since they live in the same neighborhood. Great to have him back! The partner setup for the bulk of the morning made for some good mumble chatter each time back at the BOMBS station.
Announcements:
Run Rocklin Run is April 7th, (Sunday). Ponch set up a team set up when you register.

Lincoln PACE Race is May 4th (Saturday) Hobo has created a team to sign up under. Look for "F3 Fitness" Hobo and YHC have signed up for the 10k.

Stitch and Rapid are both in different running events next weekend. Go get 'em guys!

VQ ALERT: Next week Hobo takes the Q!