First off, a super huge shout out to Leatherman who posted, even though his hand was shredded by a bus yesterday. Way to push through brother! A bridge workout seemed apropos since YHC wanted to design a workout to keep Troy Haynes in mind. People often say, "We'll cross that bridge when we come to it." Well, this young man has come to a bridge that he is crossing, with his family and the Woodbridge School District community by his side. Troy is an outstanding young man at his high school, a great student, and a senior quarterback for his state championship team. The bridge he is crossing, not by choice but because life has dictated that he cross it, is cancer. The community continues to rally around he and his family with the widely adopted mantra #fightlike4. 4 is his high school jersey number. We don't have answers for why anyone faces these kinds of battles–bridges to cross–especially young, strong, and healthy. But we can certainly pray for them and rally around them as best we can when they're crossing such bridges. That way they're not crossing it alone. #fightlike4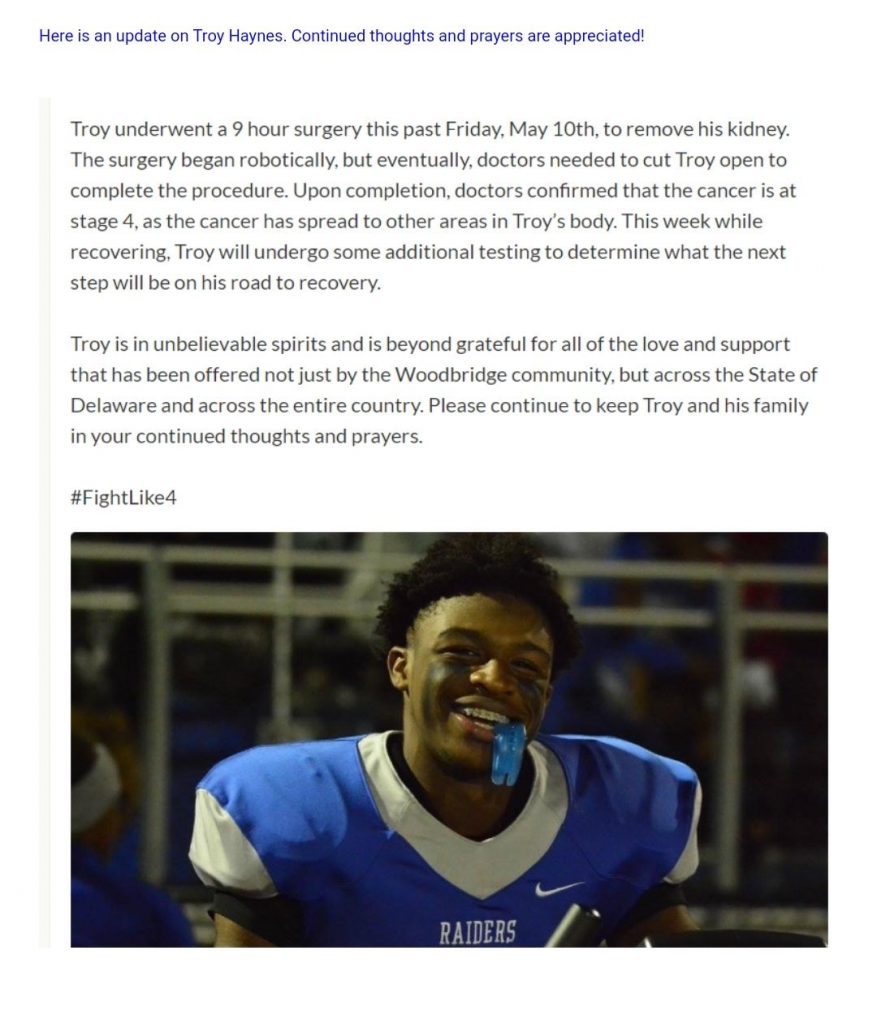 So the workout included aspects of both "4" and of crossing the bridge and just plain old hard-stuff suffering. In the words of Summit, it was, "A great reminder that we are all fighting something, but sometimes what we are fighting pales in comparison to another's battle. Stay positive and thankful."
It went a 'lil sum like this:
WARM-O-RAMA
SSH – 18 IC
CRAB FLIPPERS – 20 IC (It's that season, flip 'em!)
CALF RAISES – 30 in/30 out OYO
MERKINS (selections by PAX)

Wide Arm – 4 IC #fightlike4
Diamond – 4 IC #fightlike4
Regular – 4 IC #fightlike4
Prison Cell – 4 IC #fightlike4

BUTT-KICKERS
TOY SOLDIERS
THE THANG:
Mosey to the far side of the canal bridge, i.e. the corner of Anglers Road & East Savannah Road. PAX ran past 2 deposits of sandbags. Ironic. However, as tempting as they were, they didn't belong to F3. Yet, there was a fine stack of sandbags coupons to choose from at the aforementioned corner–deposited there by YHC. Each PAX grabbed a 40lb bag, and the beatdown commenced by performing a coupon exercise, then crossing that bridge:
Shoulder-to-shoulder – 20x

Lung/Mosey/Lung to other side of bridge (.1 mile)

Sandbag High Pulls – 20 x

Mosey to other side of bridge (.1 mile)
Brief Breather for 3rdF:
If I were to ask 'What is the most famous prayer of all time?' probably ALL of you guys would say it is the Lord's Prayer. Most of you might even be able to recite it; and your only question might be whether to say trespasses, debts, or sins. It was the prayer pattern the Lord taught His disciples after they'd requested, "Lord, teach us to pray."
It goes like this: OUR FATHER WHO ART IN HEAVEN, HALLOWED BE THY NAME. THY KINGDOM COME, THY WILL BE DONE ON EARTH AS IT IS IN HEAVEN. GIVE US THIS DAY OUR DAILY BREAD. AND FORGIVE US DEBTS, AS WE ALSO HAVE FORGIVEN OUR DEBTORS. AND LEAD US NOT INTO TEMPTATION, BUT DELIVER US FROM EVIL. FOR THINE IS THE KINGDOM, AND THE POWER, AND THE GLORY, FOREVER. AMEN. (Matt. 6:9-13)
Alot of people, men especially, struggle with prayer. But in its simplest form, prayer can be defined as talking with God. This one happens to give a pattern. It teaches: We are to start with worship, getting our minds on who He is. Acknowledging that He is above all things; that His will is our priority; that all things come from Him and we're dependent upon Him. We acknowledge, again, the importance of keeping our relationships with others in order (forgiveness) so that we may have an unhindered relationship with Him (forgiven). It's a prayer pattern that also expresses that we lean on Him daily as our best and only resource against the onslaught of temptation and evil in this world. And that even while in this world, we recognize we belong to another, over which He is Sovereign.
When it comes to prayer and God's will, one illustration that is especially appropriate in this setting, is to understand that prayer is a boat hook. When we put out the boat hook, we're not actually pulling the land/dock to us. Instead we're using it to pull ourselves to the land/dock. I.e. we use prayer to align ourselves with God and His will.
Too often we call on God ONLY if we think we need Him or find ourselves in a tight spot ("foxhole faith"), but He wants us to call upon Him, He wants us to depend on Him, and He wants us to trust Him daily. The reason He's given us this gift is that He wants each of us to have a relationship with Him. Personally. Not as Sky-Q but as Soul-Q.
When I joined the 28th I.D. of the PA ARNG, I was sent off to what they called "pre-basic." While I lay in my rack after lights out on that first night wondering what I'd gotten myself into, it dawned on me to recite the Lord's Prayer out-loud. I wanted to be a good witness to the men in my platoon, but I also went back and forth in my mind on whether I could do it. I doubted… What if I forget the words? What if nobody joins me? What if…? Finally, there in the dark barracks, I started…and from the way it sounded, EVERYONE FOLLOWED! And we all, in that moment of fear and uncertainty declared our dependence upon God; we declared that we trusted Him with the direction that each our enlistments would take us. And we found comfort both in knowing that we could call out to Him (and He'd hear), and in the esprit de corps of that experience of the Lord's Prayer being recited in unison.
That moment also began to impress an important leadership principle into my heart and soul: "ALL IT TAKES IS FOR YOU TO LEAD." And THAT is what HIM do. Lead!
Back at it…
Sandbag Thrusters – 20x

Lt. Dan to other side of bridge (.1 mile)

Sandbag Deadlifts – 20x

Leave sandbag on corner, prison break to start point and back, rubber legs and all! (Total = .4 miles #fightlike4)
Upon returning to the corner, each PAX grabbed his sandbag coupon for the final stretch: Wosey return to the AO, Sandbag had to be overhead. If sandbag was down, PAX had to stop. Sandbag back up overhead, PAX could keep moving. The idea was to move as far and as long as possible between breaks. Tried to go in the backdoor, but Chairman wouldn't have it. Way to push us brother!
06:00 hrs., time!
Number-Rama/Name-O-Rama
COT:
Announcements: YHC is going to try to find some time to organize the Memorial Day Mini (CSAUP) and push thoughts on to Site-Q's
Prayers: Troy, Zane, Wildwing's friend, an another that YHC apparently forgets. No worries, however, our Father in Heaven remembers
BOM
Always love trying to get creative at this AO. Thanks to all the PAX who posted and got their fill of sandbags and sand. As always it was a privilege to Q! Btw, don't forget #fightlike4
~Chappie, out!