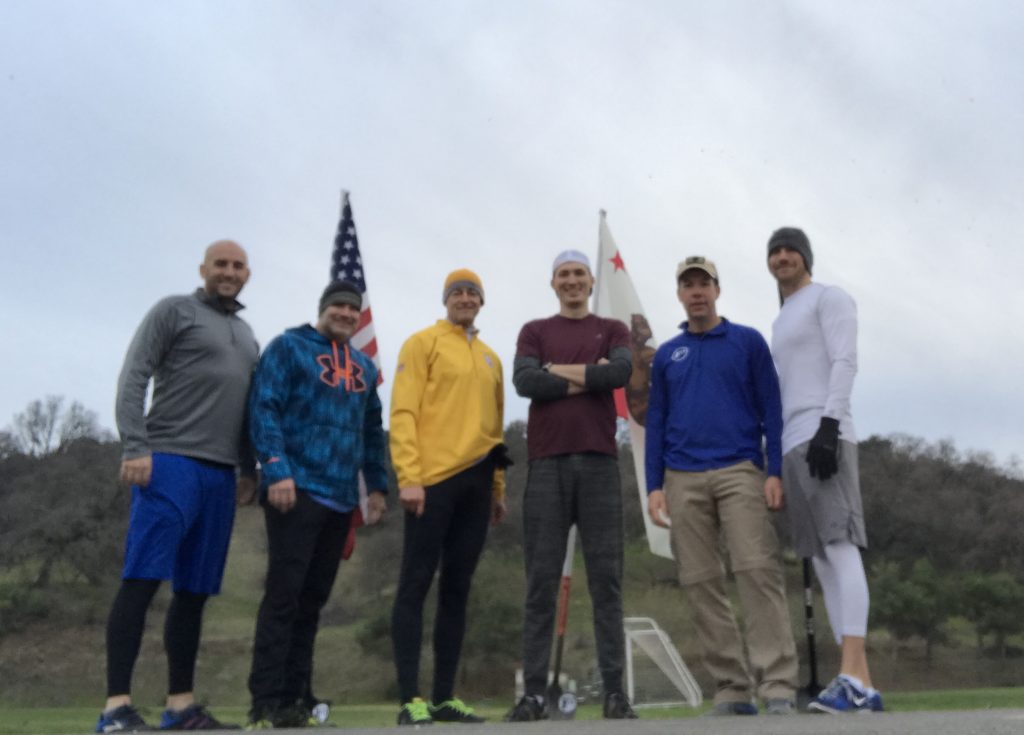 1/5/2019
AO: Rocklin High School
Rocklin, CA
Q: '88 (YHC)
Pax: Rabbit, Stitch, FNG Hobo, FNG Bundchen
Down Range Pax: Lunger from Tacoma
6 guys kicked off the new year in by attending the first Rocklin beatdown of 2019. The fun kicked of with a puff right at 0700. As we were on our mosey to the tennis courts to begin the warm up Rabbit calls out "SKUNK!" We had apparently startled the poor creature and sent it scurrying into the brush along side the courts. Our new friend "Le Pew" must have fired a warning puff of his or her aroma for us to enjoy our entire warm up.
The Thang
Tennis Court Suicides
Jog across first court then backpedal to start.
10 SSH IC
10 Merkins OYO
Repeat jogging to 2nd, 3rd and 4th courts.
Rinse and Repeat with 10 LBCs and 10 Squats

Mosey to Stanford Ranch for Jacobs Ladder with Merkins to 7

Mosey to painted ladders near the pool. 2x each of the following:
1 foot in each box
Both feet in each box
Lateral 1 foot in each box
Lateral in/out
single leg hop

Mosey to soccer field for cone races:
Two 10yd x 10yd boxes set up; pax sprint straight to first cone, side shuffle left, backpedal and side shuffle to the finish. This was done 2x as a group then we split off into 2 teams and raced through 1x with the losing team doing 5 burpees.

Mosey to Gym Wall: First pax runs around the cones on the field approx 150 yards, second pax holds plank, rest of pax hold wall sit. Each pax takes turn planking and running.

Circle of Pain/Mary
25 LBCs OYO
15 Low Flutters IC
15 Low Dollies IC
15 High Flutters IC
15 High Dollies IC
25 LBCs OYO
2x 25 second Supermans
25 second plank
25 second single arm plank each arm
COT
Number & Name-O-Ramas
Ball of Man
Naked Moleskin
Our morning began with a bang meeting our skunk friend. Lunger from the pax in Tacoma, Washington arrived at about 7:02 and had to do a short search to locate the pax on the tennis courts. He is in the area visiting family and was pleasantly surprised to find our AO is now in operation. We begin on time, every time. Great to have him DR. Stitch continued to EH from his 2.0's cheer dad corp which brings Bundchen into the pax. His hospital last name sounds an awful lot like the first name of a famous Bündchen in the world. Hobo the other FNG today, heard about us after reading about the Nation in Men's Health Magazine. He tells us he didn't think there would be a workout near him and he was pleasantly surprised to see us on the map. He however did cross up the start and end time up and joined us while we were in the Circle of Pain/Mary portion near the end of the beatdown. He had just finished an 8 mile run and he jumped right in with us as we finished. He is a retired LEO and now does work for the railroad and is appropriately named Hobo.
Announcements:
F3 Dads Weekend in the Santa Cruz Mtns is set for Feb 8-10. F3 Monterey is heading this up so contact them for details.
Most of the pax are connected on the Band app which has proved to be a worthy comz tool.
YHC will be DR in Seattle on January 19, we need a Q that weekend.