Pax: Chairman, Chappie, Chattahoochee, Fireplex, Hideous, Leatherman, Nugget, Ruxpin, Semi, Toy Soldier, Vanilla, Waterfall
Posted In: Milton, DE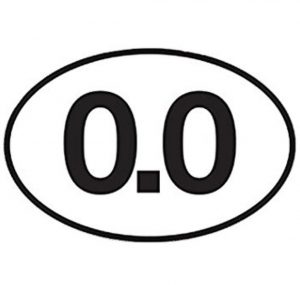 Date: 9/25/18
QIC: Chappie
Once again a "dirty dozen" HIM posted in the Gloom, even with the threat of rain. That shouldn't be surprising. After all we post rain or shine, hot or cold. That's a great lesson for life in and of itself–i.e. circumstances and conditions should not be given a whole lot of power over us.
The Backblast title says "0.0"—this was as a result of a request by one of the PAX who injured an ankle and needed a low-run to no-run workout. Well, there you have it. But it was a workout nonetheless! Here's how it went down:
Warm-O-Rama:
SSH – 18 IC
Parker Peter – 10 IC
Crazy SH (CSH) – 18 IC (Thanks Mr. Swartz, YHC's elementary school gym teacher. He always taught is SSH's this way! Addition to the Exicon? Who knows.)
Plank Jacks – 18 IC
Calf Raises – 30 OYO (toes in)
Calf Raises – 30 OYO (toes out)
The Thang:
PAX paired up after counting off by 2's as instructed by YHC for some unknown reason. Duh, huh, huh! Anyway, after a brief intro to the workout stations around the AO parking lot, PAX commenced to the no "mike, mikes" (slang for miles) beatdown.
Here's the list of stations:
*Timer: Box Jump Squat – 10, Curb Steps – 10, Flying Squirrel – 10, Side-to-Side Line Touch – 10 (*This station was used in lieu of a timer, upon completion, PAX rotated to next station–approximately 2 mins. per round)
Ruck – OH Presses/Ruck – Curls, AMRAP
Ruck – OH extended while woseying around lot
Bearcrawl/Crawlbear – Around parking space, AMRAP
Log Press/Log Upright Row – AMRAP
Sandbag Sit-ups – AMRAP
Parking Line Burpees – AMRAP
Single Leg Hip Thrusters – AMRAP (on park bench…this was punishing)
Paver Drive – AMRAP (Also punishing, they burn! PAX held pavers straight out and turned left/right, like driving, for the duration of the round. YHC hopes the messages motivated some push.) Here's an image of the infamous pavers…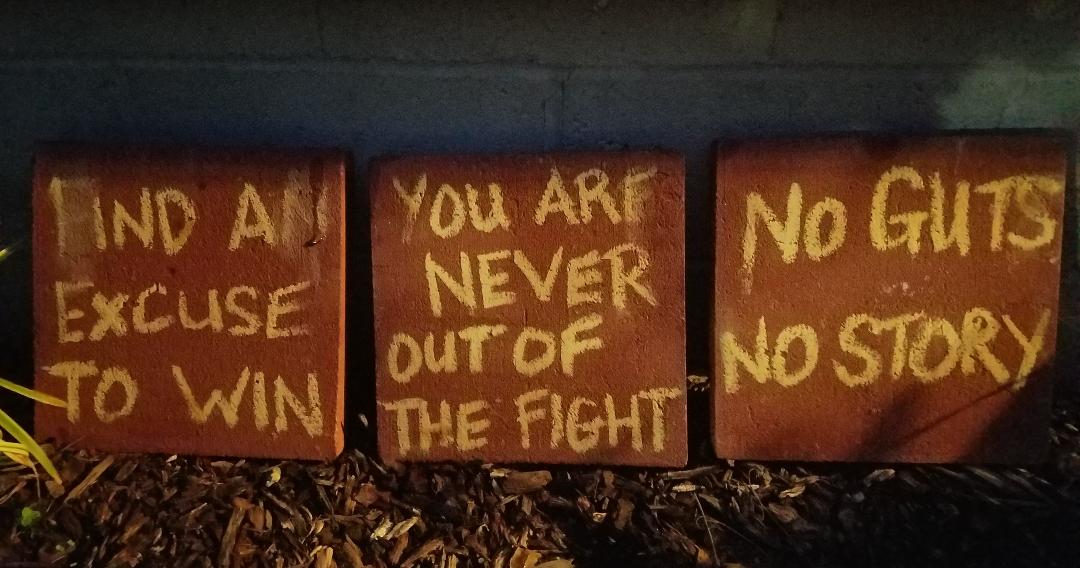 3rd F Message shared a couple of rounds in:

As much as those in the military experience that in training and in battle conditions, and as much as athletes experience it while training and more so in competition, and as much as we experience here in the Gloom, those thoughts are made real as we experience them day-in and day-out—they're lived out by us all.

In fact, I would even add that it is those real-life experiences of suffering and hardship that are really training us to be faithful.

Paul said in 2 Timothy 2:3-9,
"Join with me in suffering, like a good soldier of Christ Jesus. No one serving as a soldier gets entangled in civilian affairs, but rather tries to please his commanding officer. Similarly, anyone who competes as an athlete does not receive the victor's crown except by competing according to the rules. The hardworking farmer should be the first to receive a share of the crops. Reflect on what I am saying, for the Lord will give you insight into all this. Remember Jesus Christ, raised from the dead, descended from David. This is my gospel, for which I am suffering even to the point of being chained like a criminal. But God's word is not chained."

I love that, Paul, here in Scripture, speaks in terms that we can understand. Here's the takeaways on this one. Paul was talking about Kingdom values vs. World's values. He said,

▪Suffering/hardship is normative, not just in training, but in everyday life (in ministry!). Can you imagine that? Well, it's the rule rather than the exception!
▪ We endure it, however, because we understand there's a greater purpose behind ALL suffering. So wherever it's taken you, focus on the bigger purpose, the eternal—do your job in order to please the ONE who is carrying you through it.
▪It's meant to sharpen and purify you. To strengthen you. It's meant, in the context of this passage, to make you a greater witness to Jesus Christ. "No guts, no story!" Right?
▪After all, if you won't quit and walk away when things get tough, others are gonna want exactly what you have. Add to that, no cheating! No short-cuts!
▪Pain IS only temporary—that's a reality taught us EVERY TIME we show up in the gloom and workout. Here it's only 45 mike, mikes. In life it may be a day, a week, a year, etc. Enduring it builds muscle, but in greater ways than just physically. It builds muscle emotionally, mentally, spiritually, and in return WE BECOME BETTER LEADERS AT HOME, AT CHURCH, IN THE WORKPLACE, AND IN THE COMMUNITIES IN WHICH WE SERVE.

That's why we use slogans like:
▪DFQ – "Don't Freakin' Quit!"
▪"Embrace the suck" (Embrace it because it is normative! Paul: "Suffer hardship with me")
▪"Find an Excuse to Win!"
▪And, yes, "No guts, no story."

That's about it. The pain actually was temporary—it only lasted 45 mins! Well, actually, post-workout chatter implies that it's lasting throughout the day. Yep! YHC will take that as a compliment! It was great to see everyone pushing hard today, even as we partnered up it was still a "you against you" kind of day.
COT/BOM:
~Announcements: Get your flyers for the Grace Church Father/Son Campout ~Prayers: Lifted up Chris and Lifted up Bethany, along with other young people trying to figure out life.
Chappie, out!