3.23.2019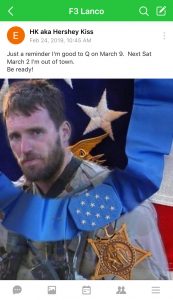 A couple weeks ago, Hershey Kiss had us all fooled into thinking we were doing the Murph.
Because everyone was so upset that we did a different workout (and because Memorial day is only 2 months away), it only felt appropriate to actually do the Murph.




PAX: Garden State, Square, Herbie, Inspector, Tattoo (Q)

Warm up:
SSH – 10 IC
Imperial Walkers – 10 IC
Hillbillies – 10 IC
Mountain Climbers – 10 IC
Lunges – 10 IC, alternating legs
Overhead Claps – 10 IC

The Thang:
Murph
1 Mile Run
100 Pull-ups
200 Merkins
300 Squats
1 Mile Run

Number-O-Rama, Name-O-Rama, COT:
Thoughts and prayers for Sunspot and Eagle who are at #GrowRuck this weekend and Inspector's wife.
Awesome job to all the PAX today! Even though we didn't get the warm Spring weather we anticipated, everyone pushed hard and finished strong.

Tattoo, out.